The WECAN Academy 2020 combines two leading capacity building programmes in patient advocacy that grow the knowledge and skills of about 120 leading patient advocates from Europe.
Out of concern for the health and safety of our speakers, participants, and local communities we have made the difficult decision to cancel the F2F  training programmes this year.
Please know that we remain committed to finding other ways to share patient advocacy training and tools with you through upcoming webinar training and e-learning course programs. For any questions regarding the cancellation please contact us.
Smart Start, initiated in 2015 by Sarcoma Patients EuroNet and held from 2019 by WECAN, is a three-day patient advocates' educational course during which those who are relatively new to patient support and advocacy will have the opportunity to learn basic knowledge and tools which will provide the solid foundations for them

This 3-day course is for patient advocates…


who are relatively new in existing groups/organisations
who would like to take future responsibility as chair, board member or director
who want to grow and maintain a national not-for-profit advocacy/support organisation in their own country
who are seeking to improve their skills to acquire essential knowledge and learn about advocacy tools

SmartStart provides…

basic knowledge to set up and maintain a national cancer patient group in their own country
networking with experienced patient group leaders and trainers
balanced mix of practical advocacy and support "tools"

The "Masterclass on Patient Advocacy" was originally initiated by ESO (European School of Oncology) and took place three times between 2014 and 2018. From 2019, it has been taken forward by the patient community as the WECAN Masterclass in Cancer Patient Advocacy.

The WECAN Masterclass is an important educational event for the cancer patient community. It allows highly experienced cancer patient advocacy leaders to enhance their understanding of key cancer policy issues and enhance their advocacy skills. Many issues and topics are similar across all cancer indications, so it is very important opportunity for advocacy leaders representing different cancer patient organisations active at a European or international level to meet, share and interact and enhance their skills and knowledge in advocacy.

3-day Masterclass for experienced patient advocates…

to enhance their advocacy and leadership skills in complex areas around healthcare systems, access, research, data and NGO management
to discuss ways of improving organizational impact and effectiveness
to eview state-of-the-art approaches to evidence-based advocacy
to have opportunity to network and share experiences
Webinars
The following 7 webinars will be held between Dec. 2020 and May/June 2021:
Drug development & key elements of trial protocols
Fundraising and grant writing
Good NGO governance
GDPR and Data Protection
Patient Involvement in Publications
PRO, patient relevant measures & endpoints
Regulatory system and access pathways
Draft programme of the WECAN Academy 2021 (9-12 July 2021)

The WECAN Academy trains in the three main knowledge pillars:
"Advocacy Tools & Skills", "Healthcare Systems, Policy and Access" as well as "Research and Data".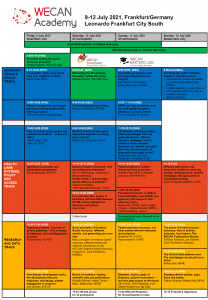 Sponsors of the WECAN Academy 2020/2021
The WECAN Academy 2020/2021 is supported by additional educational grants from:






WECAN Academy Programme Committee & Coordinators

Ananda Plate, MPE – Bettina Ryll, MPNE – Jan Geissler, CML Advocates Network – Gilly Spurrier, MPNE –
Kathy Oliver, IBTA – Markus Wartenberg, SPAEN – Hans Scheurer, MPE – Susanna Leto Priolo, WECAN
Coordinators/Contacts:
Hamda Munawar and Michi Geissler (Conference logistics)
hamda@patvocates.net, michaela.geissler@sarcoma-patients.eu
Jan Geissler (Programme coordinator)
email: jan@eupati.eu