WECAN training program on
"Evidence-Based Advocacy: Evidence generation and publication"
Patients and patient advocates may be in the best position to express what patients want and need. However, individual  opinions are not always most effective to convince researchers, healthcare providers or regulatory decision makers. In order to help healthcare to focus on the true needs of patients and their subpopulations, patient advocates should generate robust evidence.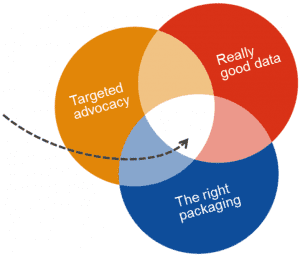 "Evidence-Based Patient Advocacy" means advocating in in a targeted, evidence-based, well-educated and professional manner, and measuring the impact and outcomes of their advocacy work. It is based on three core elements: targeted advocacy towards each respective stakeholder, use of robust data about patients needs and preferences, and use of the right packaging of messages to communicate the needs to the respective target group.
WECAN Training Programme on Evidence-Based Advocacy
As part of the WECAN Academy, WECAN has initiated a special training program for patient advocates on "Evidence-Based Advocacy: Evidence generation and publication" in 2020. In this training program for patient advocates, WECAN trains patient advocates of the WECAN member organizations on evidence generation (e.g. disease mapping on unmet needs and quality of life, patient preference studies, mapping inequalities), analyzing and publishing data, as well as the practical use of this data to drive evidence-based advocacy change. This person will then act as the expert in evidence-based advocacy within their community.

At the end of this course, participants will have:
understood what evidence-based advocacy is
learned from examples we already have, and the challenges they experienced
developed methodological knowledge on how to implement evidence-based advocacy
understood the publishing process and know how to publish data of patient-led research, or be involved in the publication or review of clinician-led research
received coaching on developing a strategy for evidence-based advocacy in their WECAN member organization
developed a concrete project idea on evidence-based advocacy in their WECAN member organization
In our WECAN Classroom, participants view educational materials and interact with other advocates. Following the webinar training series, each participant may take part in individual coaching on evidence generation. The first training round started in May 2020 with 23 students and is currently in progress.
Patients in Publications Training Course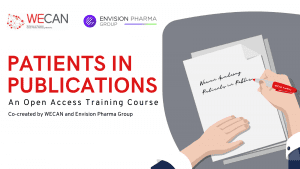 Patient advocates need to publish their own research and survey data, and are more and more invited to be co-authors or peer-reviewers of medical journals.
As part of the WECAN Academy Knowledge Base of key educational resources for patient advocates, WECAN has colleaborated with a renowned expert of patient engagement in publications, Envision The Patient, to develop four open-access online training module on patient involvement in publications.
Access the WECAN Training Course "Patients in Publications" here.
Access the related LinkedIN Group here: https://www.linkedin.com/groups/13980434/
The 'Patients in Publications' Training Course was designed by WECAN and "Envision the Patient" and co-created with patient advocates. We are most grateful to the Patient Editorial Board members who provided valuable feedback during course development: Tamás Bereczky (EUPATI), Jan Geissler (CMLAN), Teodora Kolarova (INCA), Kathy Oliver (IBTA), Zack Pemberton-Whiteley (ALAN),
Ananda Plate (MP)E, Katie Rizvi (YCE), Gilly Spurrier-Bernard (MPNE), Judith Taylor (TCA), Werner Zinkand (MPNAN).
Supporters
This WECAN expert training program is hosted by EUPATI Germany on behalf of WECAN. Funding was obtained from the following industry and non-industry funders. Supporters had no role in course development.

Contacts
Please contact the coordinators Zack Pemberton-Whiteley (zack@acuteleuk.org), Jan Geissler (jan@patvocates.net) or Alison Mendonca (alison@wecanadvocate.eu) for further information.