A WECAN update: Reasonable Agreements between Patient Organisations and Pharmaceutical Companies (RAPP), aka the Legal Agreements project
Since 2016, our community has been talking with pharma about issues faced when negotiating legal agreements around patient engagement. In the implementation phase of this important project, we are continuing that dialogue between patient advocates and pharmaceutical companies and revisiting the important question; how can we make sure the legal relationship between patient advocates and pharma is adequate, fair, and reasonable so that meaningful patient engagement can take place?
Join the discussion by taking this survey now.

The project "Reasonable Agreements between Patient Advocates and Pharmaceutical Companies" was initiated by WECAN in 2016 and was coordinated by Myeloma Patients Europe (MPE) in collaboration with Patient Focused Medicines Development (PFMD) and legal experts from pharmaceutical companies.
In order to engage with companies on matters important to patients, it was often the case that individual patients and patient organisations were being asked to not only spend a great deal of time reading through needlessly lengthy and complicated contracts, but also take on significant and unnecessary risk and liability with potentially grave consequences. It was felt that a lot of the time, this was due to the company's legal departments being unfamiliar with working with patients and patient organisations. This project aimed to develop a set of Guiding Principles for use by both parties to guide legal negotiations between patients and pharmaceutical companies towards fair terms that would enable fruitful engagement and collaboration.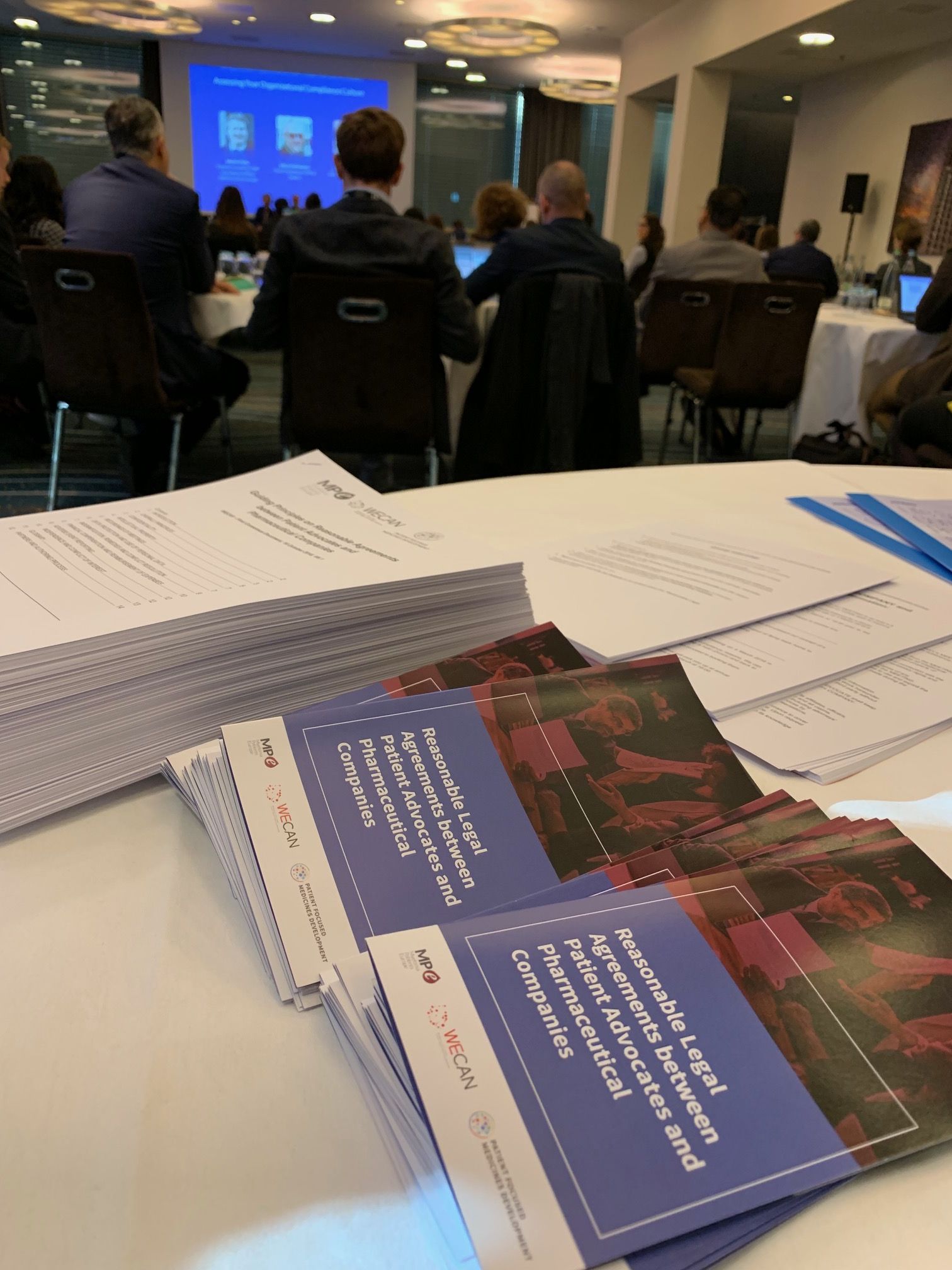 Over the last years, the project journey has included significant milestones, a summary of which is provided below:

For what comes next, we need your help
At the next meeting of the MSAWG, we will be using the feedback from patient organisations and pharmaceutical companies on their experiences of legal interactions, and of using the Guiding Principles and Reference Agreements. We will use this to guide the objectives and agenda of this next phase of the workstream.
Do you have experiences you'd like to share? We want to hear from you.
Have you:
experienced particularly successful – or challenging – interactions regarding legal agreements between patient organisations and pharmaceutical companies
thoughts, feedback or ideas regarding the Guiding Principles or Reference Agreements (either positive or negative)
training needs or requirements regarding legal interactions between patient organisations and pharmaceutical companies and you would like to let us know about these
We have developed a 5 minute survey to capture your thoughts, experiences and recommendations around working with Pharma in legal and compliance interactions, on the RAPP project and the Guiding Principles/Reference Agreements, and anything else you'd like to contribute to this discussion. The resulting insights will drive the agenda of the next meeting of the MSAWG.
We would be grateful for you taking the time to complete the survey and sharing your valuable insights: you can access the survey through the links below.
We know that surveys cannot always capture the detail – if you have more you would like to share in a call, we'd be happy to hear from you. Please email [email protected] to to schedule a call to talk about this further.