EuroACT Phase 1 nears completion
Where are we at?
The end of Phase 1 Task 1 has resulted in 1262 Patient Related Outcomes (PROs) identified in the targeted literature review across all disease areas. The list of PROs is currently being reviewed by patient organisations in each disease area. A thorough review by each individual patient organisation ensures:
Expertise insights gathered from patients
PROs identified and collected are appropriate and precise
All PROs are included within the project, especially those that are meaningful for patients and that may not be reflected through publications.
The second part of this project is to understand the clinical trial landscape, i.e., where clinical trials take place in WHO European Region. To carry out this search in clinical trial databases it is crucial to have clarity in the search terms needed for each disease area.
A search term or query is the word or phrase someone enters into a search engine. It can be a single word or a group of words. Search engines use search terms to understand the intent of the user and return the most relevant results. For example, when searching for digestive cancers, the search terms may be "digestive cancer", "colorectal cancer", "gastric cancer", "oesophageal cancer" etc…
To effectively and efficiently search the clinical trial registries, a list of search terms has been developed. The search terms will be used to search on ClinicalTrials.gov and EU Clinical Trials. To ensure we gather information on all clinical trials happening in each disease area, the project requires insights from the community that the search terms include all possible combinations for each disease area. The current list of search terms is currently being reviewed by each patient organisation, so they can remove, add or modify any search term guided by their expertise and knowledge of the disease area.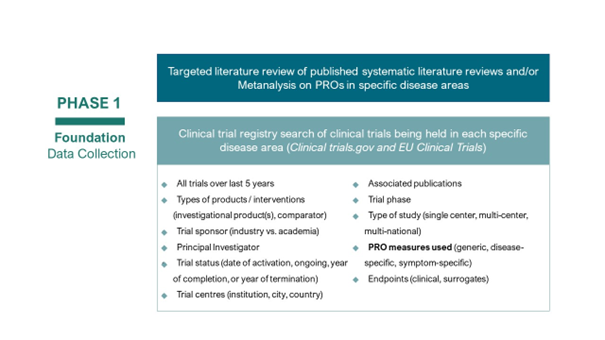 Next steps
As data from clinical trial databases is gathered, data from different databases will be merged together with the findings from the targeted literature review to consolidate the outputs from Phase 1 both the clinical trial landscape and PRO tools being used.
Results from Phase 1 will be discussed within the steering committee. In addition, the project will hold the Phase 1 Workshop "Understanding the clinical trial landscape from different stakeholder perspectives". In this workshop, patient advocates and pharmaceutical companies will discuss the preliminary results obtained during Phase 1.
A summary from Phase 1 and raw data insights and trends will also be shared with the patient community by the end of Phase 1.
ABOUT
THE
PROJECT
EuroACT is a research project initiated by WECAN and the European Hematology Community. The project aims to understand the clinical trial landscape in the European region, based on data extracted from all relevant European clinical trial registers. Data from the past five years will unveil differences where clinical trials have been run in European countries and will describe how and which patient-reported outcomes (PROs) and quality-of-life (QoL) instruments have been used in clinical trials.