The WECAN Academy 2020 combined two leading capacity building programmes in patient advocacy:
WECAN Smart Start: Starting and Building a National Non-Profit Patient Group focused on "beginners" in patient advocacy, and the WECAN Masterclass on Patient Advocacy  on experienced patient advocacy leaders.
These two 3-day training programmes were held for 6-9 July 2019 in Frankfurt/Germany to grow the knowledge and skills of about 100 leading patient advocates from Europe in the areas of "Advocacy Tools & Skills", "Healthcare Systems, Policy and Access" as well as "Research and Data".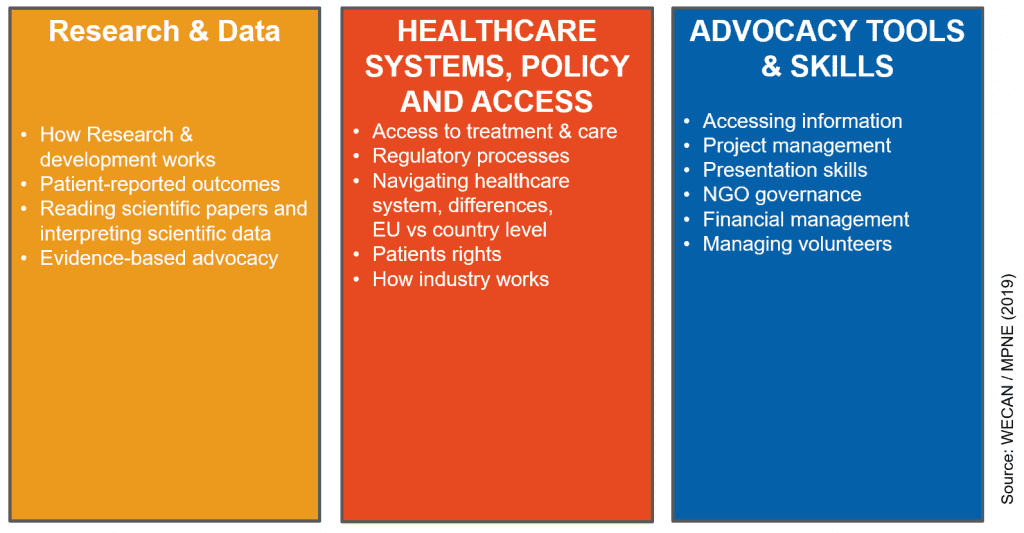 NEWS ON THE WECAN ACADEMY 2019
About the WECAN Academy 2019
Smart Start: Starting and Building a National Non-Profit Patient Group
6-8 July 2019, Frankfurt/Germany
Smart Start is a three-day patient advocates' educational course during which those who are relatively new to patient support and advocacy will have the opportunity to learn basic knowledge and tools which will provide the solid foundations for them to create and maintain a national not-for-profit advocacy/support organisation in their own country.
3-day course for patient advocates
who are in the process of starting a group/organisation
who have already started an organisation and are seeking to improve their skills
who are relatively new in existing groups/organisations and who would like to take future responsibility as Chair, Board Member or Director
The 3-day training course provides…
basic knowledge to set up and maintain a national cancer patient group in their own country
networking with experienced patient group leaders and trainers
balanced mix of practical advocacy and support "tools"
 Main topics:
Building A National Non-Profit Patient Group (Strategic planning, legal aspects, governance, financial aspects, marketing)
Cancer World: Relationships and working within the system (clinical research, working with volunteers/physicians/industry/media, healthcare system processes)
Best practices and personal skills (patient meetings, making medical content understandable, presentation/moderation skills, online tools)
Masterclass in Cancer Patient Advocacy – recommended by ESO   
7-9 July 2019, Frankfurt/Germany

The Masterclass on Patient Advocacy was originally initiated by ESO (European School of Oncology) and took place three times between 2014 and 2018. It is now being taken forward by the patient community as the WECAN Masterclass in Cancer Patient Advocacy recommended by ESO.
 The Masterclass is an important event for the cancer patient community, since there are limited opportunities available for highly experienced cancer patient advocacy leaders to enhance their understanding of key cancer policy issues and enhance their advocacy skills. Many issues and topics are similar across all cancer indication, so it is very important opportunity for advocacy leaders representing different cancer patient organisations active at a European or international level to meet, share and interact and enhance their skills and knowledge in advocacy.
3-day Masterclass for experienced patient advocates
Help participants hone their advocacy and leadership skills
Discuss ways of improving organizational impact and effectiveness
Review state-of-the-art approaches to evidence based advocacy
Provide participants with opportunity to network and share experiences
WECAN Academy 2019 Programme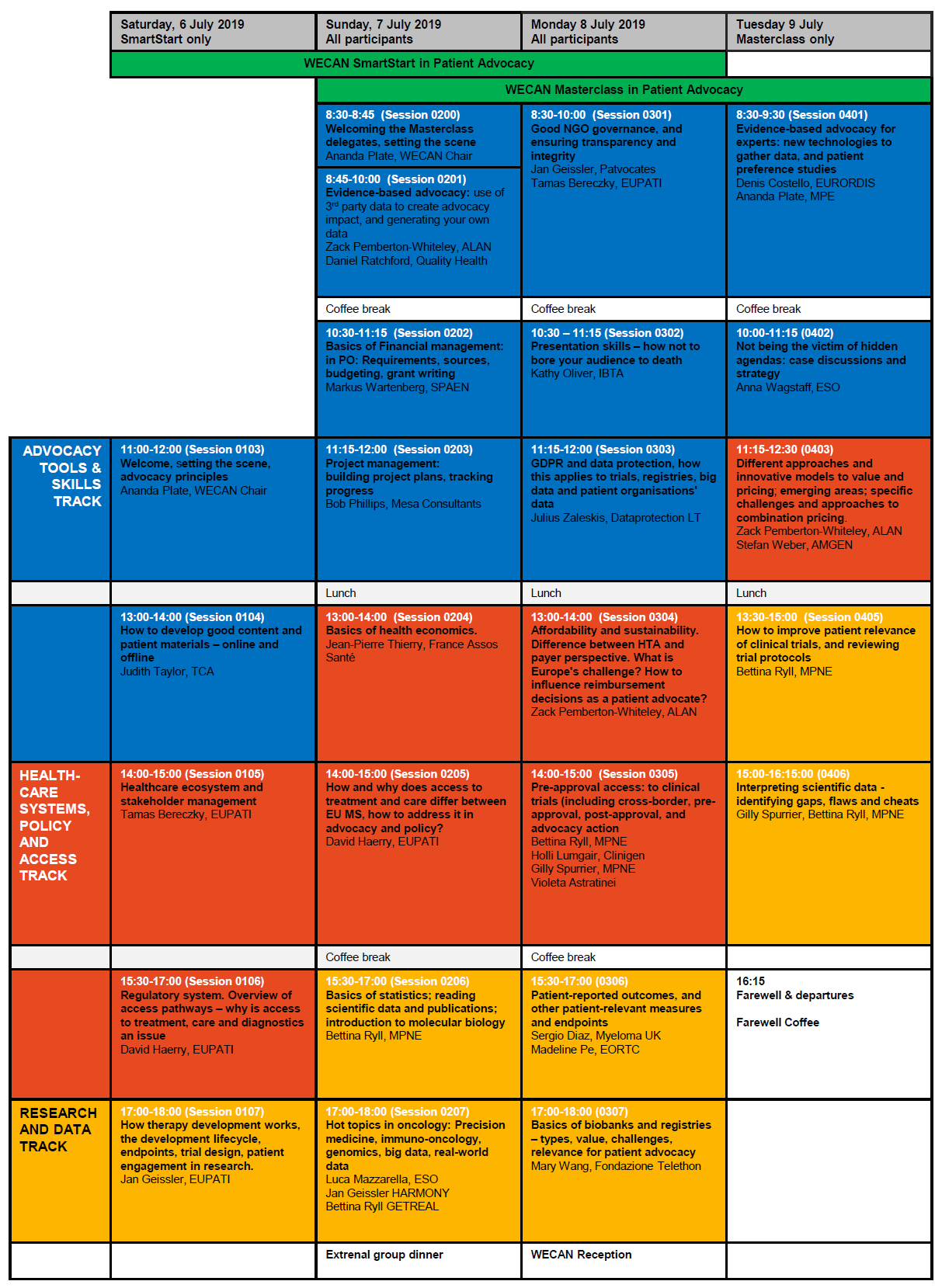 Sponsors of WECAN Academy 2019
Initiating sponsor

WECAN is very grateful to the ESO board for supporting the transition from an ESO Masterclass to a WECAN Masterclass in Patient Advocacy and the financial support as an initiating sponsor of the WECAN Academy 2019.
The WECAN Academy is supported by additional educational grants from:
AMGEN – AstraZeneca – BMS – Celgene – Daiichi Sankyo – Incyte – Lilly – Merck – Novartis – Pfizer –  Roche – Takeda
   
        
WECAN Academy Programme Committee:
Fedro Peccatori, ESO – Ananda Plate, MPE – Bettina Ryll, MPNE – Jan Geissler, CML Advocates Network – Gilly Spurrier, MPNE –
Kathy Oliver, IBTA – Markus Wartenberg, SPAEN – Hans Scheurer, MPE – Susanna Leto Priolo, WECAN
Contacts:
Michi Geissler (Conference coordinator)
email: [email protected]
Jan Geissler (Programme coordinator)
email: [email protected]
The WECAN member organisations are: