Online collaboration and interaction tools
A frequent objective of meetings is to draft documents or build consensus on feedback, to brainstorm to generate or collect ideas, or to prioritize actions or next steps. There are a number of online tools that are frequently used in virtual patient advocacy meetings today.
Collaborative document editors like Etherpad or Google Docs allow teams to jointly create and edit documents, spreadsheets and presentations in real time. All participants can see changes of all participants instantly – but other than just sharing your screen, everyone can edit or add text in parallel, so you may leave the meeting with an agreed document.
These editors are less intended for group brainstorming, as they do not feature something like sticky notes, and they are best used in a linear way like "going through something systematically" is what they are best in. Collaborative editors usually work pretty well with a small number of live participants. However, when a number of people are all editing at the same time, it may get confusing like 30 monkeys with a typewriter.
Collaborative brainstorming tools like GroupMap, Mural or Miro were developed for facilitating lively discussions and brainstormings where floating ideas need to be collected and then structured and prioritized. Similar to physical meetings where a facilitator or the participants write their ideas on sticky notes or flipcharts which are then being discussed, grouped and sorted, these online tools follow a similar process. The advantage to a blank wall in a physical meeting is though that the virtual tools can be based on pre-defined templates to guide thinking, and they can be used off-sync over a period of multiple days so participants can add to them whenever they find time, or brainstorming and voting can be done in multiple steps.
Below we are providing more details on a selection of collaborative editors and collaborative brainstorming tools which we have experienced in different meetings in patient advocacy.
Collaborative real-time document editors
Etherpad is probably the simplest live online editor providing ad-hoc collaborative editing in real time, e.g. when jointly drafting a meeting agenda or a short joint statement during a call.
Based on free open-source software, Etherpad is provided by a large number of online providers for free. like e.g. Wikimedia's Etherpad. On any of them you can open a joint "pad" just with two clicks, and share a link e.g. your teleconference's chat window. Everyone who has the link can edit and view instantly. The downside of Etherpad is there are no access restrictions and no confidentiality, so all current as well as past content of any pad may become public – don't do strictly confidential stuff on this! Keep in mind as well that there is no guarantee that a pad's contents will always be available later, so after the work session, it is important to save a copy of important data somewhere else as well.
Google Docs (Docs, Sheets, Slides)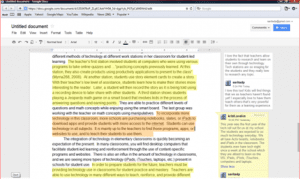 Google Docs is probably the most used free collaborative document editing tool, as it is easy to use, and with public links, allows instant access without creating an account. It is quite familiar to those using Microsoft Office, but allows to do real-time editing of text documents, spreadsheets and presentations. Microsoft Office files can be imported and then edited in Google Docs, and the result can be exported in Word, Excel or PowerPoint format again. However, on sophisticated Word or PPT templates, the conversion sometimes messes up the visual details.
Google Docs can be great for a team when providing a share link to a whole group, but tricky when you want to restrict access to specific people. With a share link, anyone who has the link can see and/or edit the document. If you want to make it availale only to named individuals, they also need to have a Google account, so you need to have their Google-registered email address if they have one. The person setting up the document initially needs to have a Google account in any case, the document will be shared in his/her Google Onedrive. and he/she can then invite other participants with a share link.
Google Docs also features mobile apps for Android and iOS which also allow offline and online editing.
Slite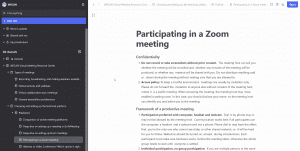 Slite is a simple, modern Google Docs alternative. More than just a collaborative editor, Slite is a whole document space for teams to jointly write and organize textual documents. In one workspace or "channel", Slite allows a team to keep and edit a whole hierarchy of documents at the same time. This is very useful e.g. when writing project documentation or content for a whole website section with multiple subpages.
Links to channels can easily be shared, so teams can then co-author a large set of different documents at the same time. It is very easy to use. The browser remembers the log-in, so no log-in is required when you come back and continue writing where you stopped the day before.
Slite provides a free licence that allows to create 50 documents/month and unlimited members. Paid plans add unlimited docs, read-only access for specific users, and advanced administrator rights. Slite has been used to author the whole WECAN Virtual Meeting Knowledge Base.
Collaborative brainstorming tools
GroupMap
GroupMap is a real-time online collaborative brainstorming and decision-making tool. While other tools focus on brainstorming using sticky notes and whiteboards, similar to using sticky notes on physical walls and flipcharts, GroupMap is an effective way to brainstorm, discuss interim results, and then use group votes and ratings to have  prioritized action items before the meeting ends.
GroupMap solves this by capturing individual thinking and brainstorming first, then revealing the collective group perspective, all in real-time. Rather than just providing a real-time canvas for brainstorming, GroupMap provides multiple basic process steps – brainstorming, grouping, positioning, voting, rating, actioning, survey and consent, which you can customize and organize them how you'd like. Those mechanisms allow the facilitator to focus on the issues that are seen as most relevant and impactful by the participants of the meeting, and allows to generate instant summaries, a visual of the results, and a PDF report by the end of the online meeting.
Over 60 brainstorming templates including e.g. SWOT, 6 thinking hats, perceptual maps, stakeholder maps, risk maps, but also simple pro/cons or action lists allow to start very quickly, and all can be customized very widely. The interface is simple and easy to use also for "IT dinosaurs", which can join simply by receiving a link e.g. in a teleconference chat. They can return to the map later as they receive a link by email when they enter the GroupMap. Facilitators can be invited to each GroupMap; they have all the rights over a map and can customize it further, have specific moderation rights, and can invite additional participants.
GroupMap offers a free trial for only 14 days. After that, paid plans range from $20-$60/month for 10-50 concurrent users, advanced facilitator controls and advanced.
WECAN and affiliated members have used GroupMap extensively, e.g. with the leaders of the EU cancer patient umbrellas working out the COVID-19 impact on cancer patients. See also our step by step guide how to set up GroupMaps.
Miro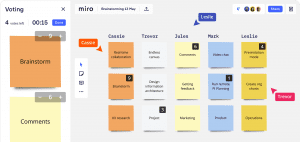 Miro offers online whiteboarding and "sticky-note" to facilitate brainstorming of online teams. On an unlimited "virtual wall" (Canvas), you can see collaborators' cursors to track how participants engage on your boards. Miro has over 120 pre-built templates including visual kanban boards, user story maps, journey maps and more.
Miro offers a time-unlimited free plan which allows up to 3 editable boards and unlimited number of participants. The paid plans (from $8/month) add private board sharing, anonymous board editors, advanced exports etc.
Mural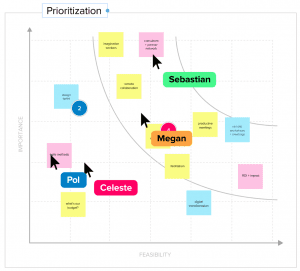 Mural enables live collaboration and brainstorming in online meetings. It is probably the nearest real-time online approximation of using yellow stickers ("Post Its") on physical walls. Participants can add and edit notes and move them around on an online "wall". Participants can join with a link, no sign-in is required,
Mural provides different types of digital workspaces where participants can brainstorm on roadmaps, diagrams and other visual methods. A number of templates are being provided which can be re-used and adapted for different types on online brainstormings.
Mural offers every account a free 30 day trial. At the end of the trial period, the account will be blocked until you upgrade to a paid subscription. Mural's "Starter" plan costs $12/member/month, which includes unlimited number of visitors. Mural offers 50% off any paid plan to non-profits when qualifying for the criteria (proof of formal non-profit status, annual budgt of less than USD 20 million).
Additional tools
Additional tools we have seen being used in collaborative online meetings but have not reviewed yet are:
A very extensive list of communication, collaboration and meeting tools for remote teams including a one-line summary and links can be found on collaborationsuperpowers.com
License terms
All content in this WECAN Virtual Meeting Resource Center is released under Creative Commons NonCommercial-ShareAlike (CC BY-NC-SA 4.0) license. You may share (copy and redistribute) and adapt (remix, transform, and build upon) this. However you must give appropriate credit to WECAN, a license notice and a link to the original material. For example "Adapted from (title of this document, link to this document) of WECAN under CC BY-NC-SA 4.0". If you build upon this material, you must distribute your version under the same license as the original (CC BY-NC-SA 4.0).
If you have any suggestions for changes or amendments, we would appreciate your email to [email protected].
Written by Jan Geissler and Hamda Munawar, 15/9/2020, V1.1. If you have any suggestions for changes or amendments, we would appreciate your email to [email protected].