Good governance is a key issue especially in non-profit organisations like patient organisations. Maintaining their credibility and integrity and having effective decision structures is key for them to achieve their mission. They are expected to demonstrate a high degree of accountability to their community and the public. In order to grow as an effective and successful non-profit organization, patient organisations need to define their decision making rules and have an internal system of checks and balances in place that ensures the public interest is served. Those rules need to be defined in good times to prevent bad times.
In addition, transparency is of key importance for non-govermental organisations (NGOs), as credibility, integrity and trust are their most important assets. Losing credibility and public trust can put a patient organisation at existential risk. Therefore, patient advocates need to know about what it means to be transparent, which kind of information should be disclosed, and how interests can be declared, e.g. at the EMA level.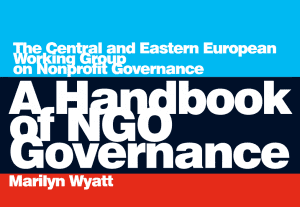 The European Center for Non-Profit Law (ECNL), in cooperation with the CEE Working Group on NGO Governance and the Trust for Civil Society in CEE, has published a Handbook of NGO Governance to address the challenges in good governance in non-profit organisations like patient organisations. Drawing from the experiences of NGOs in Central and Eastern Europe, A Handbook of NGO Governance sets forth the basic principles and practices of nonprofit governance. The Handbook is one of the best resources and is full of examples and case studies of NGOs. It offers a conceptual framework for governance in your organization, as well as tools and practical advice for helping to strengthen the work of your board. The author of the Handbook is Marilyn Wyatt. The handbook is available for download in English (PDF)  and in 18 additional languages.
Presenter: Jan Geissler, Patvocates and Tamas Bereczky, EUPATI
The following presentation held at the WECAN Academy 2019 will help you to understand:
The basics of good NGO governance
The different typologies of governance
Typical traps – founders syndrome, micromanagement
NGO growth pains
References and literature on good governance – the NGO Governance Handbook
Presenter: Tamás Bereczky
Topics:
Transparency – why is it important
The traps when not being transparent
Misuse of transparency information- how to deal with it
The do's and don'ts on disclosures
Declaration of interest vs. Conflict of Interest
The Do's and Don'ts on Consents
How to fill out the EMA Declarations of Interest
Links to existing Transparency codes of conduct
How to fill out EMA Declarations of Interest:
References: